An invitation to travel in the Mediterranean
Starters to share or individually ...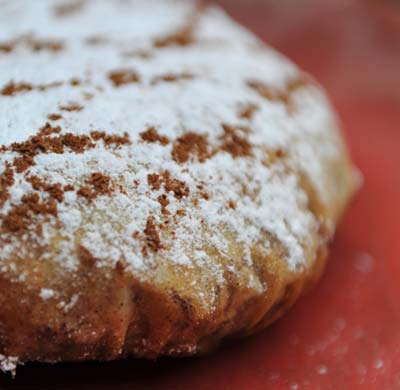 Chicken Pastilla
A festival for the taste buds
More than a delicacy, this is a celebration! Deliciously Moroccan, this pastilla, a must at festivals and special occasions, is as inescapable as it is pleasing. Swinging from sweet to savoury between each mouthful, this warm and hearty starter is a delight to taste buds with its lightly layered pastilla pastry, its chicken stuffing, eggs, onions and spices without forgetting the subtle mix of cinnamon almonds: subtle but oh how necessary! Whatever the occasion, the Pastilla will always make it better.
Peppers, tomatoes, garlic and olive oil
Aubergines, tomatoes, fresh coriander, lemon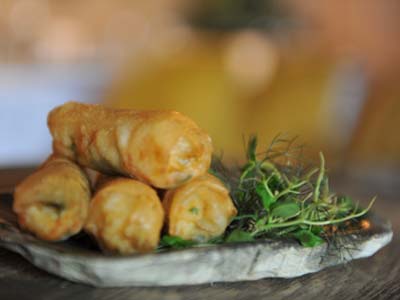 The Bride's Fingers
For better
Delicate and refined, this delicacy lives up to its poetic title. The smoothly crispy filo pastry encloses a delicious, lightly marinated langoustine. Coriander, a pinch of spice and a dash of olive oil complete the ingredients for perfect match between the pastry and its langoustine. A delight that assures fidelity!
Capers, tomato confit, parmesan, pomegranate juice, pine nuts
Sea bream, served raw with fresh coriander
24€
Mint flavoured oil and lemon juice
Tuna tartar with cream of avocado
24€
Toasted pine nuts and fresh coriander
An invitation to travel...
Beef meatball couscous
32€
Chicken skewer couscous
33€
Merguez (spicy sausage) couscous
33€
Meatballs merguez, chicken skewers, lamb
Vegetarian couscous (lambstock free)
25€
Lamb with prunes and almonds
With lemon confit and olives
Broth flavored with spices, vegetables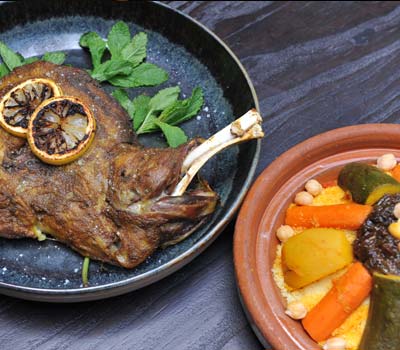 Mechoui couscous
A king on every table
First there's a tender shoulder of lamb, chosen with care, steamed and roasted the oven until the meat is soft and tender, but crispy on the outside. Then comes a soft and comfortable bed on which the meat rests, made of light and fluffy couscous, the customary vegetables, chick peas and sultanas. A classic recipe that surprises with its indulgence and conviviality.
And orange braised fennel
With teriaki sauce, sucrine salad and parmesan sauce
DISHES WITH CHOICE OF SIDE DISH
With sweet turnip and young wild fennel
SIDE DISHES
Grilled potatoes
Homemade mashed potatoes with Chorizo
Grilled vegetables, broccoli, bean, aspargus
Orange blossom, tangerine sorbet
Lime and vodka colonel
10€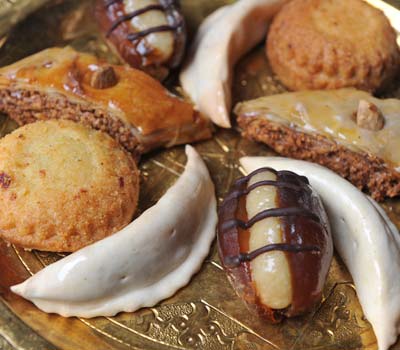 15€ (5 pieces) - 30€ (10 pieces) - 45€ (15 pieces)
Moroccan pastries
A smooth ending
Do we really need to introduce them? Gazelle horns, almond cigars, almond briouattes so many ways to share the end of the meal on a soft and sugary note. Traditional Moroccan cakes, always scrumptious as they are always homemade.
TO SHARE WHILST STILL CHATTING...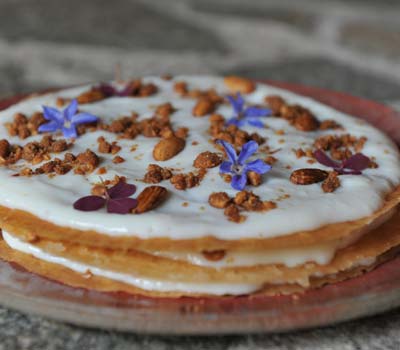 Milk and almond Pastilla
To unwrap and enjoy
Layer after layer, or morsel by morsel, everyone has their own way of eating this pastilla. Light and crispy filo pastry encloses a rich but light homemade almond cream, generously sprinkled with grilled almonds. Whichever way you decide to eat it, it's always a pleasure.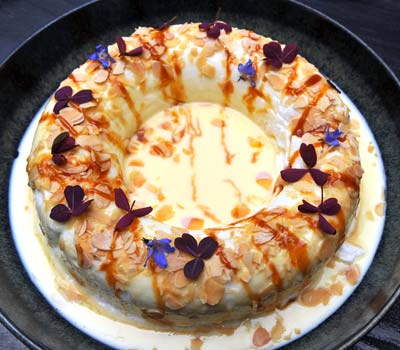 Snowy egg whites
The orient dressed in white
Here's a tasty and light epilogue. The traditional 'ile flottante' (an island of meringue in a creamy vanilla sauce) that seduces and transports us, perfumed with orange blossom and covered with grilled almonds giving it a unique oriental touch. The best way to end a delicious meal, on a cloud.
Medjoul dates and iced dates
19€
"Fruttini by Mo"
Plate of fresh fruits to share
25€
Plate of fresh fruits and frosted fruits
85€
"Fruittini by Mo"
Double coffee, cappuccino, coffee cream
7€